Mindanao, the southernmost major island in the Philippines and a vibrant destination teeming with natural wonders, cultural diversity, and warm hospitality. Mindanao offers a wide array of tourist spots that showcase the region's breathtaking landscapes, rich heritage, and adventurous spirit.
Come and discover the wonders of Mindanao, a hidden gem waiting to be explored, where breathtaking landscapes, cultural diversity, and warm hospitality converge to create an unforgettable travel experience.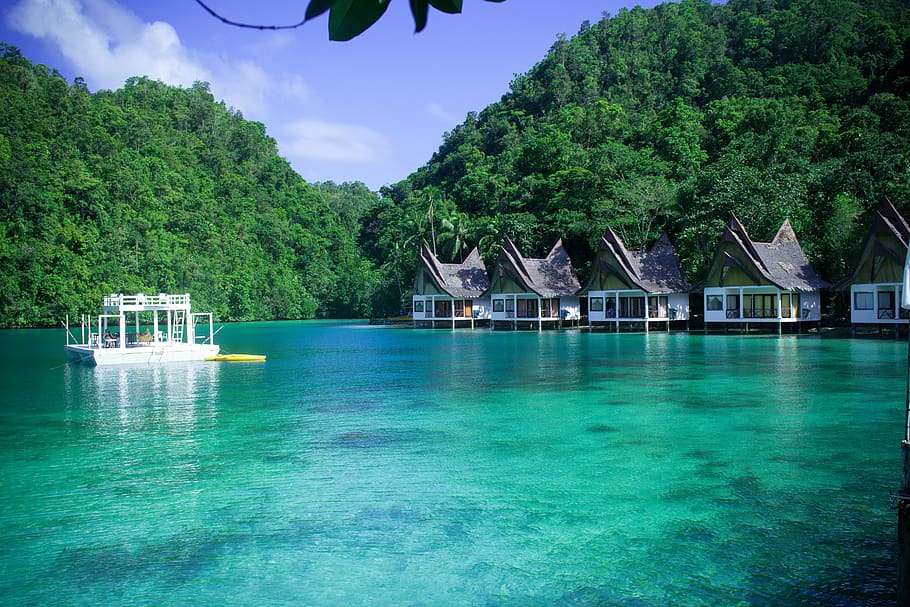 Here are The 30 Best Tourist Spots in Mindanao
1. Cloud 9 – Siargao Island, Surigao del Norte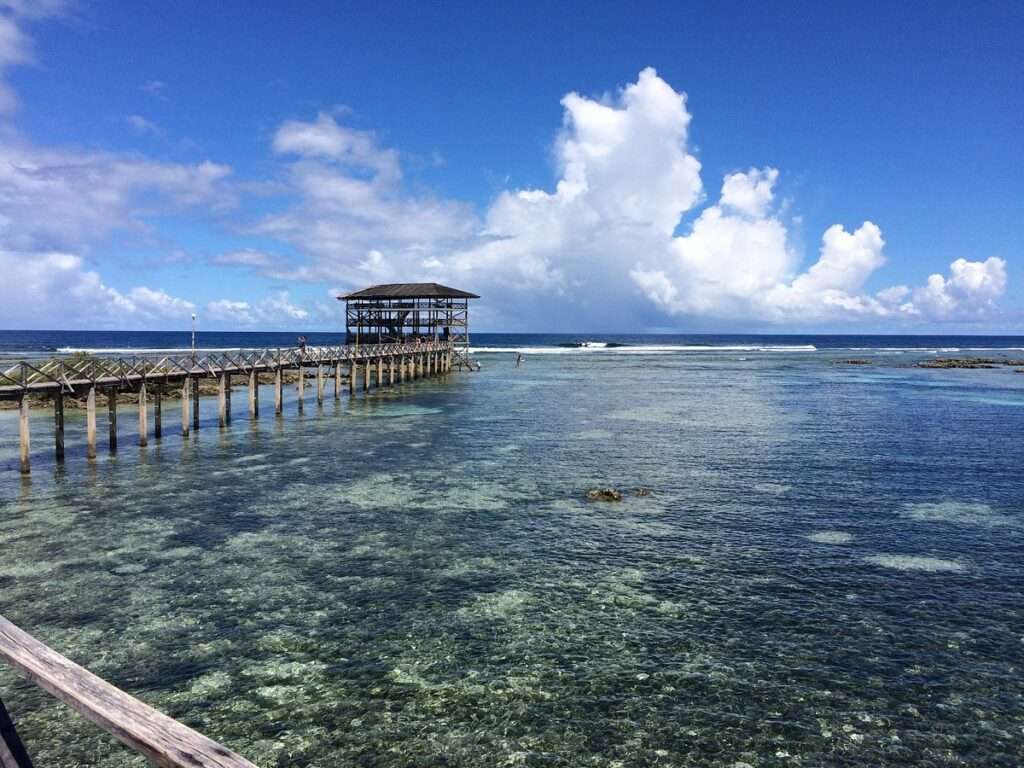 Cloud 9 is a world-renowned surfing spot located on Siargao Island, known as the surfing capital of the Philippines. Surrounded by pristine white beaches and crystal-clear waters, Cloud 9 offers consistently powerful waves that attract surfers from around the globe. The laid-back island vibe, combined with the breathtaking beauty of the waves, makes Cloud 9 a paradise for surfers and beach lovers alike in Mindanao area.
2. Camiguin Island – Camiguin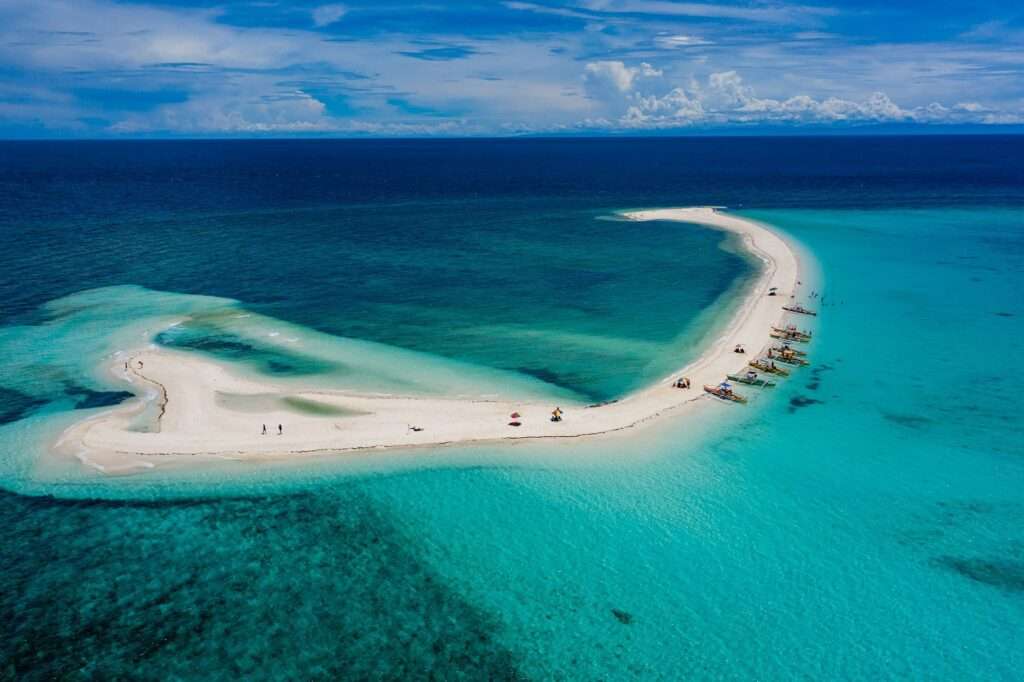 Camiguin Island is a hidden gem in the Philippines, offering a diverse range of natural attractions. This volcanic island is known for its tranquil atmosphere, lush rainforests, and crystal-clear waters. Visitors can explore stunning waterfalls like Katibawasan Falls and Tuasan Falls, soak in natural hot springs, and witness the unique Sunken Cemetery, a submerged graveyard created by a volcanic eruption. With its rich biodiversity and unspoiled beauty, Camiguin Island – Mindanao is a paradise for nature enthusiasts.
3. Mount Apo – Davao del Sur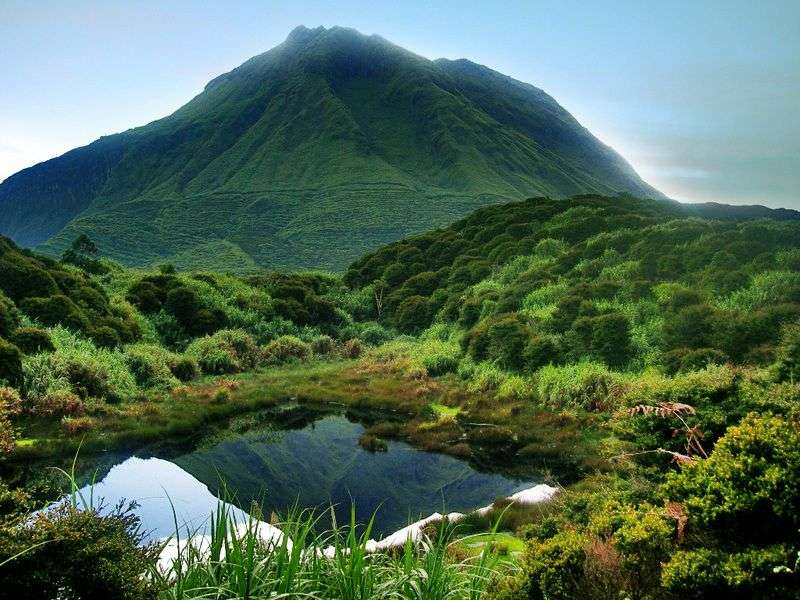 Mount Apo is the highest peak in the Philippines, standing majestically in Davao del Sur. As a dormant volcano, it offers a challenging yet rewarding climb for avid hikers. The mountain boasts breathtaking landscapes, including mossy forests, scenic ridges, and even a crater lake. The journey to the summit allows hikers to witness diverse flora and fauna, making it a popular destination for nature lovers and adventure seekers.
4. Tinuy-an Falls – Surigao del Sur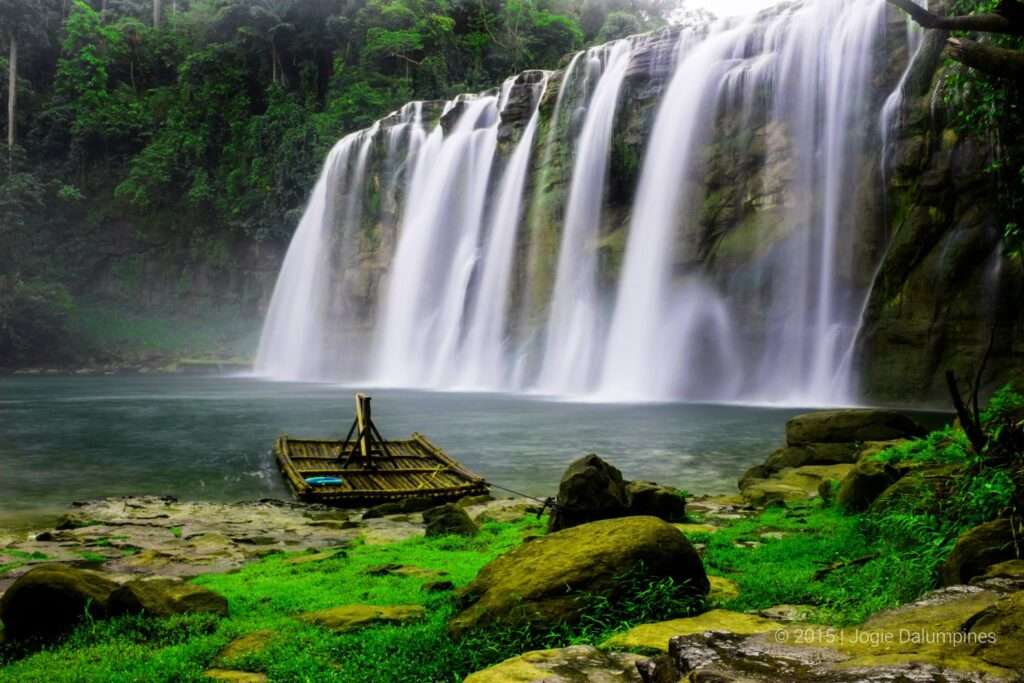 Tinuy-an Falls is a stunning four-tiered waterfall nestled in the lush forests of Surigao del Sur in Mindanao. Referred to as the "Niagara Falls of the Philippines," it captivates visitors with its powerful cascades and ethereal mist. The natural pool at the base of the falls invites visitors to take a refreshing dip while surrounded by the beauty of nature. Tinuy-an Falls is a true tropical paradise and a must-visit for those seeking natural wonders.
5. Dinagat Islands – Dinagat Island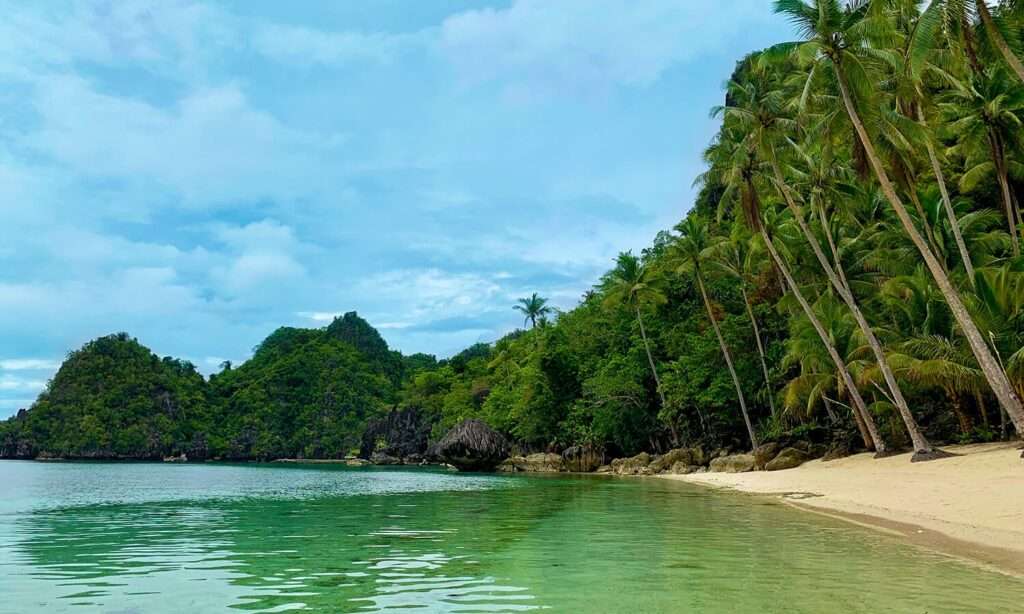 Dinagat Islands, located off the northeastern coast of Mindanao, is an emerging destination known for its pristine beaches, crystal-clear waters, and rich marine biodiversity. The islands offer a diverse range of activities, including snorkeling, island-hopping, and exploring hidden caves. Visitors can immerse themselves in the local culture, visit traditional fishing villages, and indulge in fresh seafood delicacies. Dinagat Islands provide an off-the-beaten-path experience for those seeking natural beauty and a sense of adventure.
6. Eden Nature Park – Davao City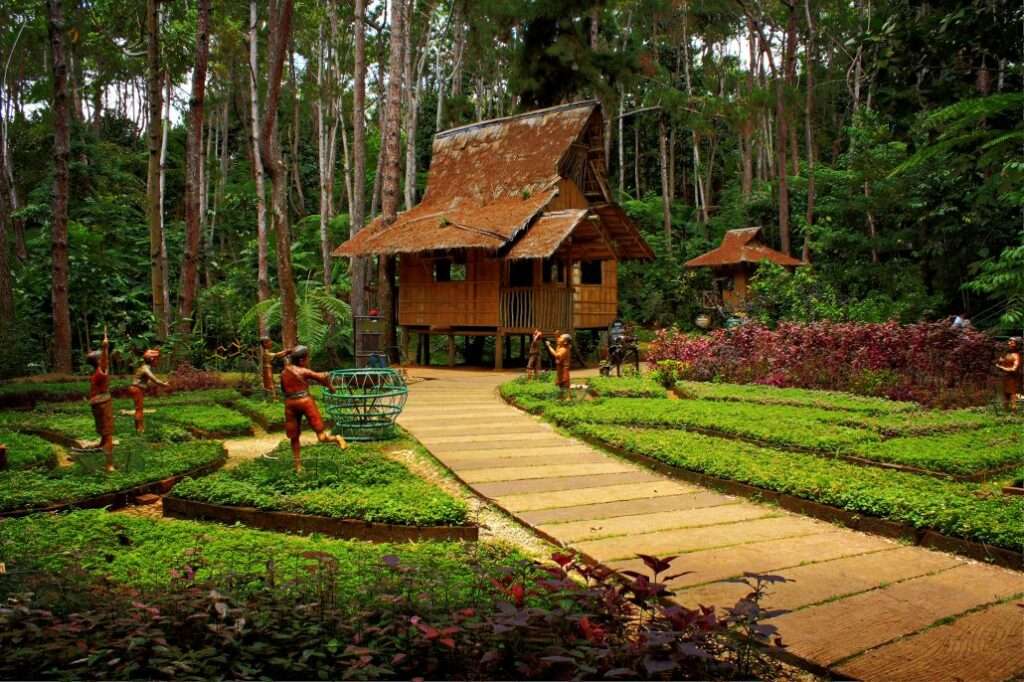 Eden Nature Park, nestled in the cool highlands of Davao City in Mindanao, is a lush and sprawling paradise that offers a retreat from the bustling city life. The park features a wide range of activities and attractions, including beautifully landscaped gardens, fruit orchards, nature trails, and a butterfly sanctuary. Visitors can engage in outdoor adventures such as ziplining, horseback riding, and fishing. With its refreshing mountain air, breathtaking vistas, and tranquil ambiance, Eden Nature Park provides a haven for relaxation and reconnecting with nature.
7. Philippine Eagle Center – Davao City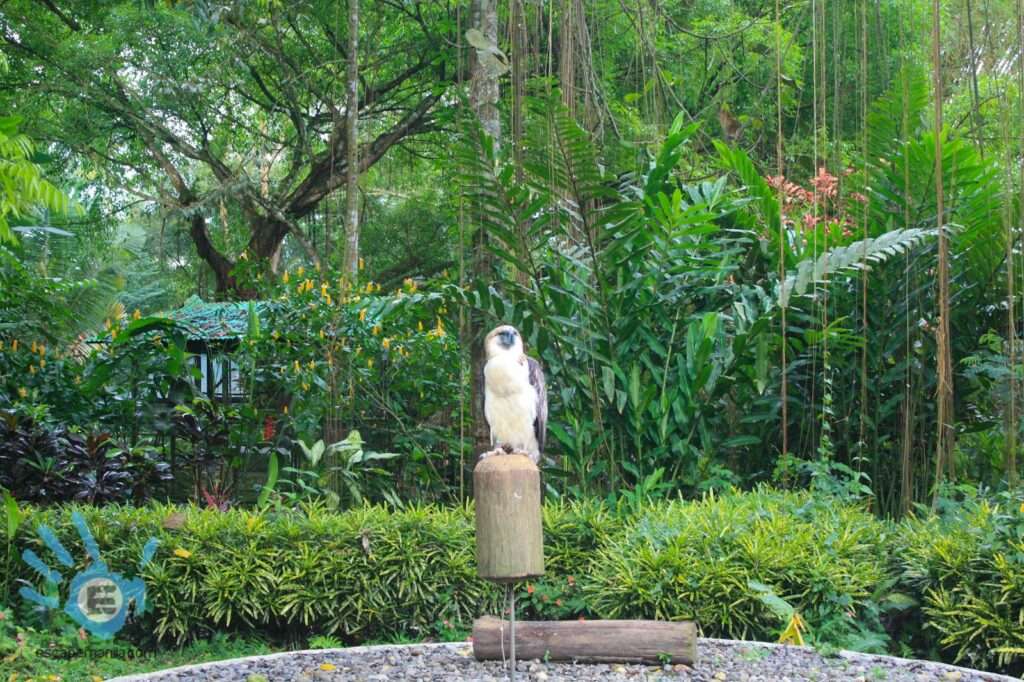 The Philippine Eagle Center, located in Davao City, is a conservation facility dedicated to protecting and breeding the endangered Philippine eagle, also known as the monkey-eating eagle. The center provides a natural and spacious environment for these majestic birds and offers educational programs for visitors to learn about their conservation efforts. Visitors can observe the Philippine eagle up close, along with other endemic bird species and wildlife. The Philippine Eagle Center serves as a vital hub for raising awareness and promoting the preservation of these magnificent creatures.
8. Jolo – Sulu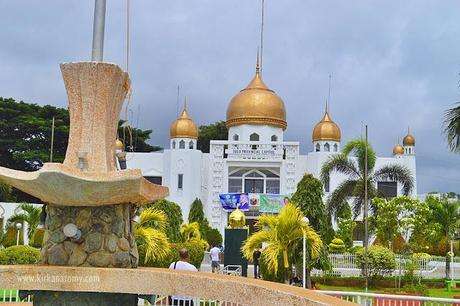 Jolo, the capital of Sulu, is a vibrant city with a rich historical and cultural heritage in Mindanao. It boasts a unique blend of Islamic architecture, Spanish influences, and traditional Filipino culture. Visitors can explore landmarks such as the Astana Putih, a white palace built during the Spanish colonial era, and the Masjid Tulay Central Mosque, a stunning example of Islamic architecture. Jolo's bustling markets, friendly locals, and warm hospitality make it a fascinating destination for those interested in immersing themselves in the culture and history of the region.
9. Bud Bongao – Tawi-Tawi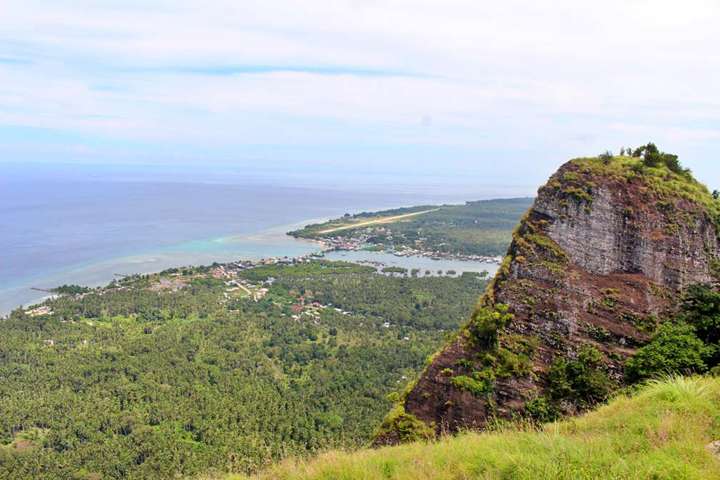 Bud Bongao, located in Tawi-Tawi, Mindanao, is a sacred mountain revered by the local Sama-Bajau people. It is a place of pilgrimage and spiritual significance, where visitors can climb the mountain's gentle slopes and reach its summit. Along the way, they will encounter lush forests, diverse flora and fauna, and sacred shrines. From the top, panoramic views of the surrounding islands and the vast ocean can be admired. Bud Bongao offers a unique blend of natural beauty, cultural significance, and spiritual tranquility.
10. Sohoton Cove – Bucas Grande, Surigao del Norte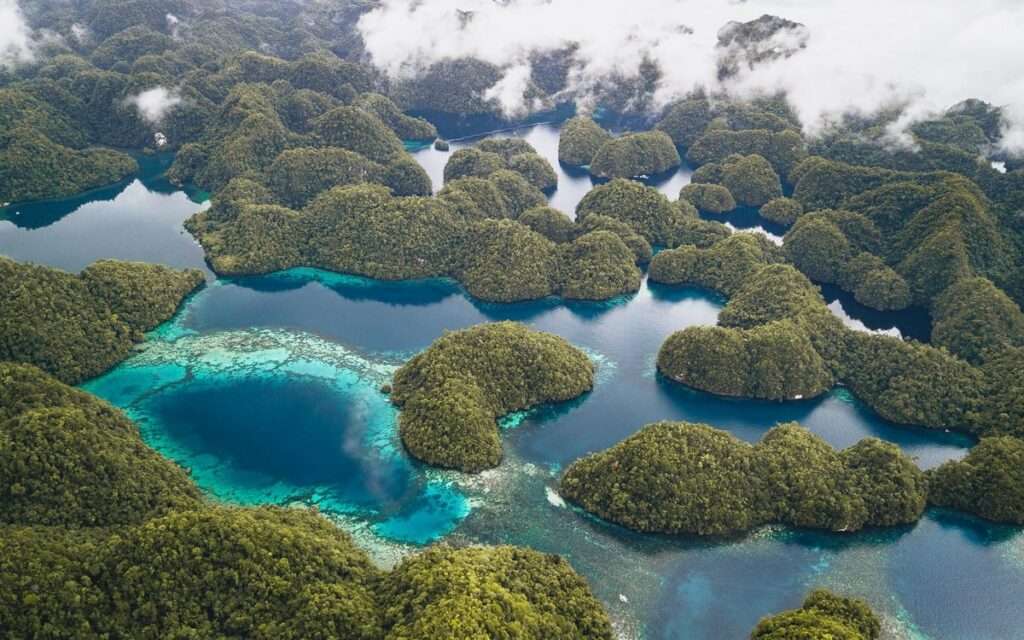 Sohoton Cove, located in Bucas Grande Island, is a natural wonderland that showcases the beauty of Surigao del Norte. Accessible through a narrow channel, the cove features stunning limestone formations, hidden lagoons, and enchanting caves. Visitors can explore the cove's emerald waters, go spelunking, or take a boat ride through the captivating landscapes. Sohoton Cove offers a truly magical and otherworldly experience that will leave visitors in awe.
11. Sugba Lagoon – Siargao, Surigao del Norte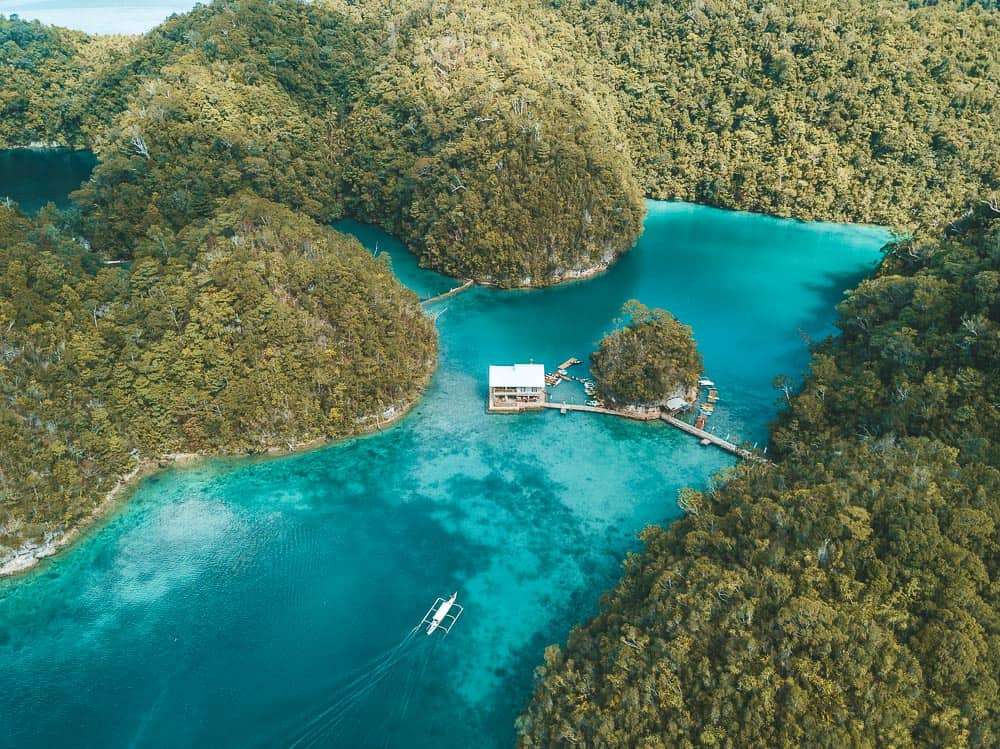 Sugba Lagoon, situated on Del Carmen Island in Siargao, is a hidden gem that captivates visitors with its serene beauty. Surrounded by towering limestone cliffs and vibrant greenery, the lagoon's turquoise waters offer a tranquil oasis. Visitors can go kayaking, paddleboarding, or simply relax on floating cottages, taking in the breathtaking views. Sugba Lagoon is a sanctuary for those seeking tranquility and natural beauty in a remote and untouched setting.
12. Magpupungko Rock Pools – Siargao, Surigao del Norte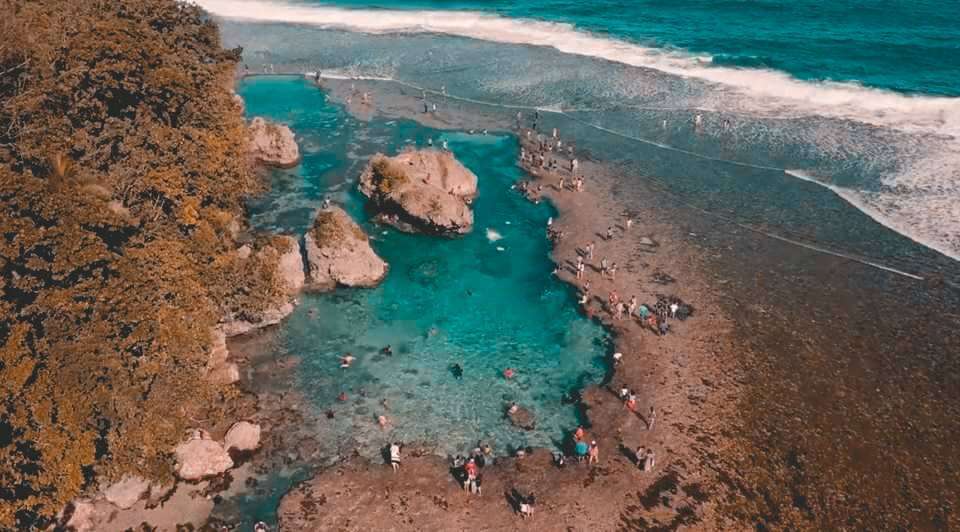 Magpupungko Rock Pools, located on Siargao Island, Mindanao, offer a unique natural wonder. During low tide, these natural rock formations create small pools filled with clear, turquoise water. Visitors can swim in the pools, sunbathe on the rocks, and explore the vibrant marine life that thrives in the surrounding coral reefs. The stunning juxtaposition of the rocks, pools, and ocean creates a captivating sight that showcases the beauty of Siargao's coastline.
13. Lake Holon – Mount Parker, South Cotabato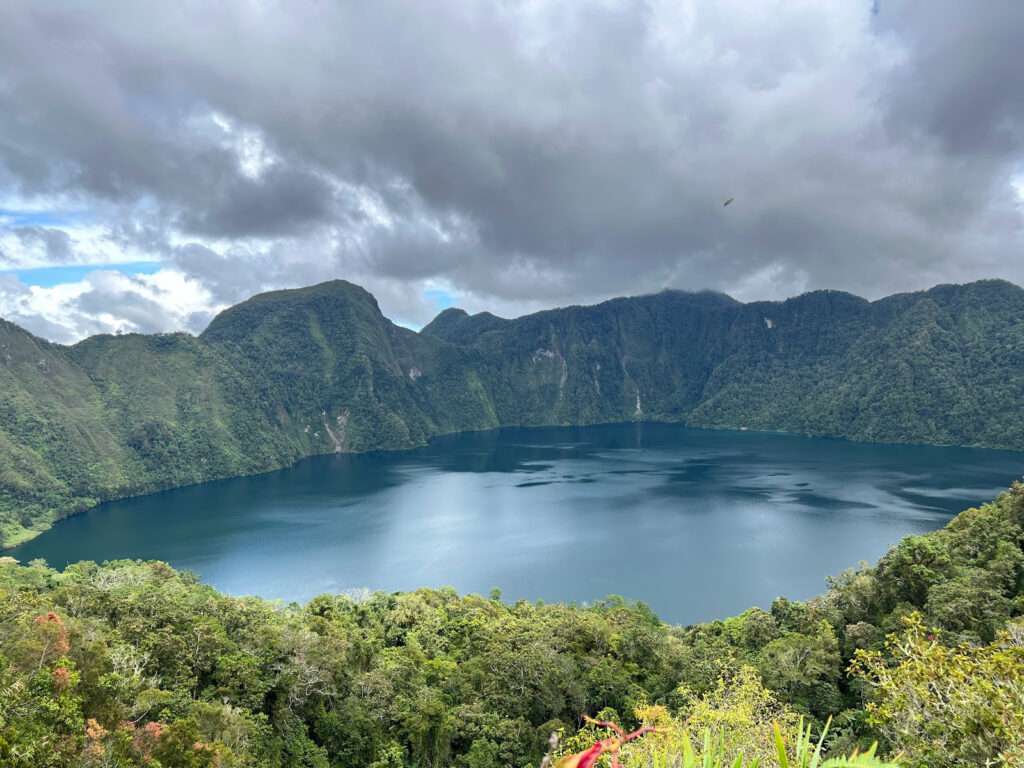 Lake Holon, nestled within the picturesque Mount Parker in South Cotabato, Mindanao is a serene and enchanting destination. Surrounded by lush forests and mist-covered peaks, the lake offers a tranquil setting for camping, trekking, and outdoor adventures. The journey to Lake Holon involves a challenging hike, but the reward is a breathtaking view of the turquoise lake, mirrored by the towering mountains. It is a place where visitors can reconnect with nature, find serenity, and create lasting memories.
14. Aliwagwag Falls – Davao Oriental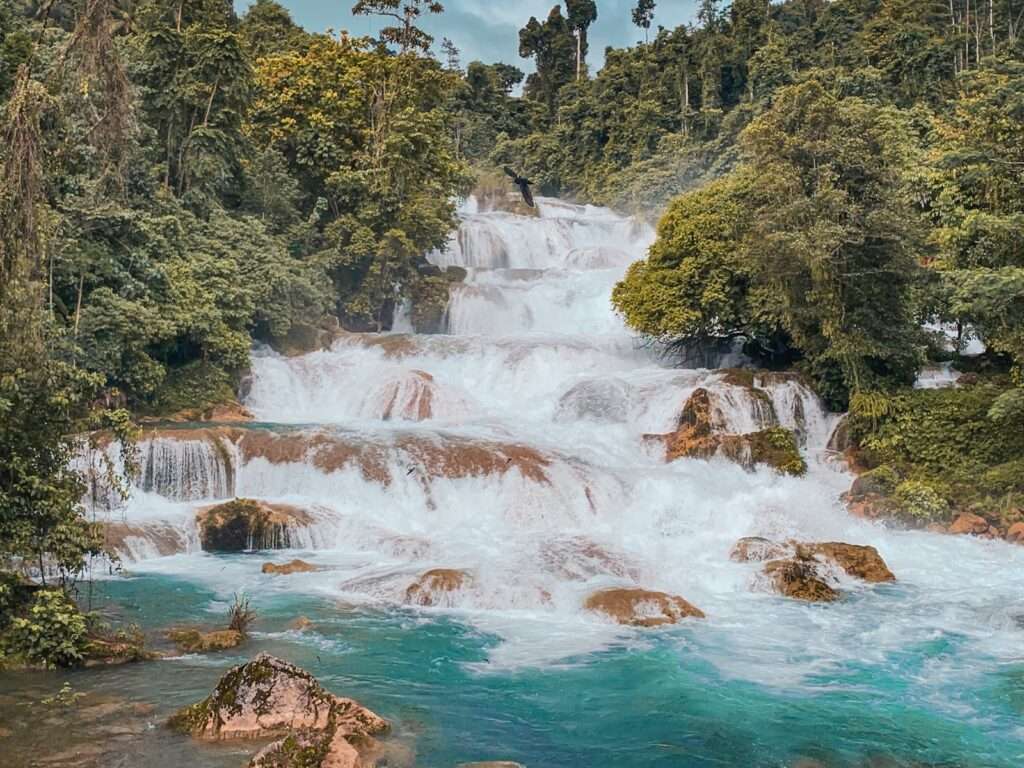 Aliwagwag Falls, located in Cateel, Davao Oriental, is one of the most unique waterfalls in the Philippines. It is a series of cascading waterfalls that form a stunning curtain-like effect as the water flows down a rock formation. With its impressive height and the lush greenery surrounding it, Aliwagwag Falls creates a breathtaking and photogenic sight in Mindanao. Visitors can trek along the cascades, swim in the cool waters, or simply marvel at the natural beauty that unfolds before them.
15. Island Garden City of Samal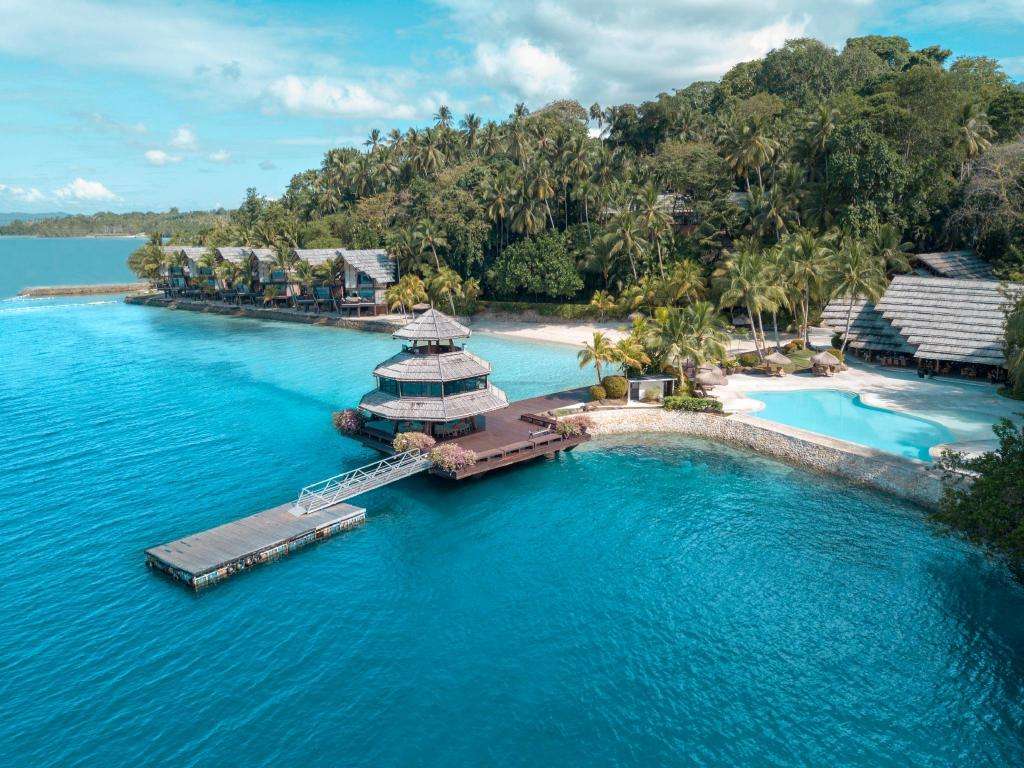 The Island Garden City of Samal is a picturesque destination just a short boat ride away from Davao City. This charming island offers stunning white sand beaches, crystal-clear waters, and a laid-back atmosphere. Visitors can go snorkeling, diving, or island-hopping to discover the hidden coves and islets that dot the coastline. The island also features unique attractions like the Monfort Bat Cave, which is home to millions of fruit bats. The Island Garden City of Samal is a tropical paradise that beckons visitors to unwind and enjoy the beauty of nature in Mindanao.
16. Mount Hamiguitan Range Wildlife Sanctuary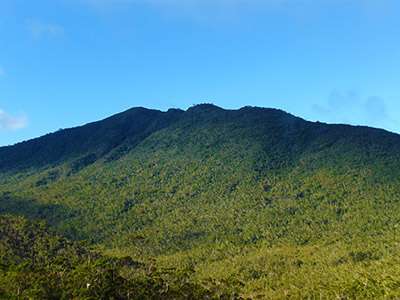 Mount Hamiguitan Range Wildlife Sanctuary, located in Davao Oriental, is a UNESCO World Heritage Site and a sanctuary for unique and endangered species. The sanctuary is known for its pygmy forest, characterized by dwarf trees and other flora that have adapted to the harsh conditions of the mountain. It is also home to the iconic Philippine eagle, one of the rarest and most majestic birds in the world. Exploring the sanctuary allows visitors to appreciate the incredible biodiversity and ecological significance of the area in Mindanao.
17. Dahican Beach – Mati, Davao Oriental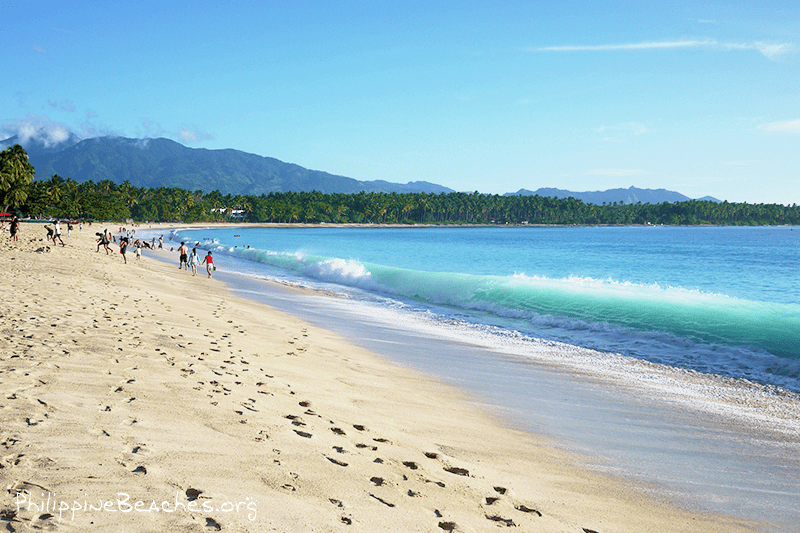 Dahican Beach in Mati, Davao Oriental, is a hidden gem that showcases the unspoiled beauty of Mindanao's eastern coast. With its powdery white sand, crystal-clear waters, and towering coconut trees, Dahican Beach is a paradise for beach lovers. It is also renowned for its strong and consistent waves, making it a popular spot for surfing. Visitors can relax on the beach, engage in water sports, or even witness sea turtles nesting along the shore. Dahican Beach is a pristine and picturesque destination that will leave visitors in awe of its natural splendor.
18. Zamboanga City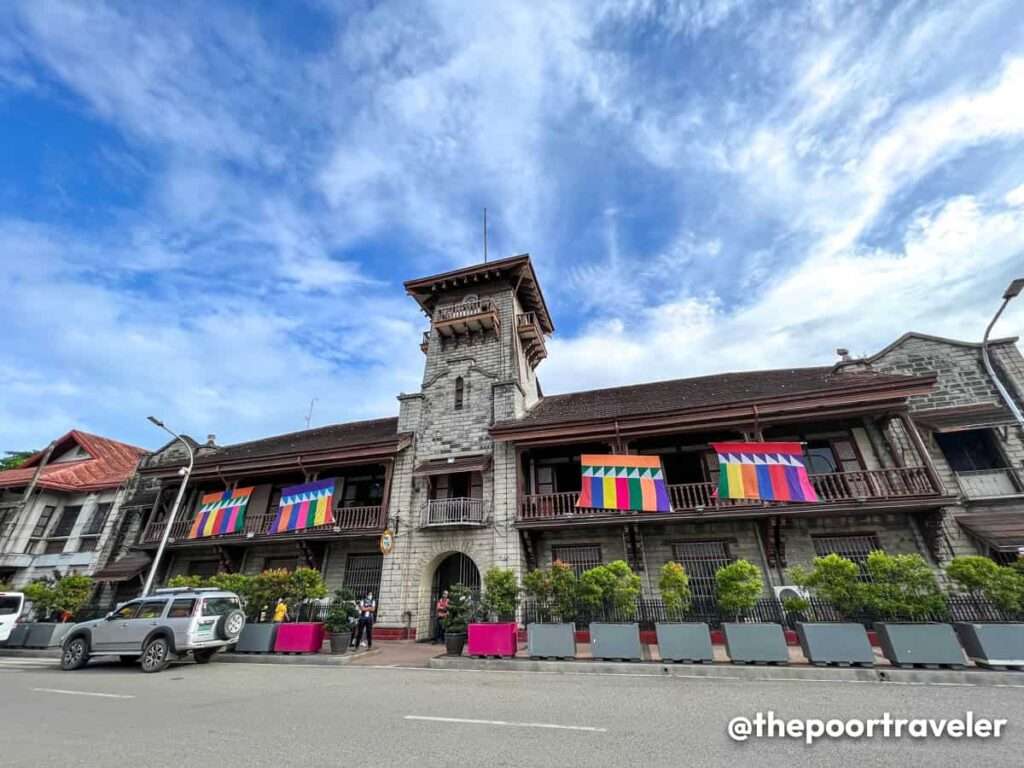 Zamboanga City is a vibrant and culturally diverse city located on the westernmost part of Mindanao. Known as the "City of Flowers," it boasts beautiful colonial architecture, colorful festivals, and a rich blend of indigenous, Spanish, and Muslim influences. Visitors can explore historic sites such as Fort Pilar, immerse themselves in the lively atmosphere of the local markets, and indulge in delicious seafood. With its unique cultural heritage and warm hospitality, Zamboanga City offers a glimpse into the rich tapestry of Filipino culture.
19. Tinago Falls – Iligan City, Lanao del Norte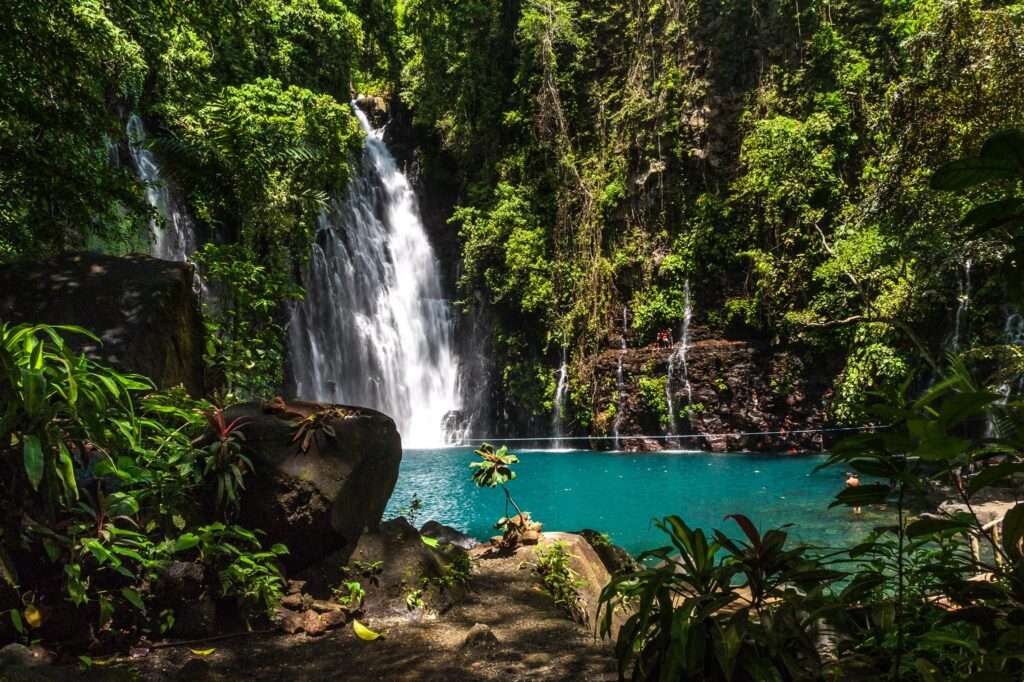 Tinago Falls in Iligan City is a majestic waterfall hidden in a lush forest of Mindanao. The name "Tinago" translates to "hidden" in English, perfectly describing its secluded and enchanting nature. To reach the falls, visitors must trek through a series of trails and descend a steep staircase, adding to the sense of adventure. Upon arrival, they are greeted with the breathtaking sight of cascading waters plunging into a serene pool. Surrounded by verdant foliage and the symphony of nature, Tinago Falls offers a tranquil retreat for those seeking solace in the embrace of nature.
20. The Sunken Cemetery – Camiguin Island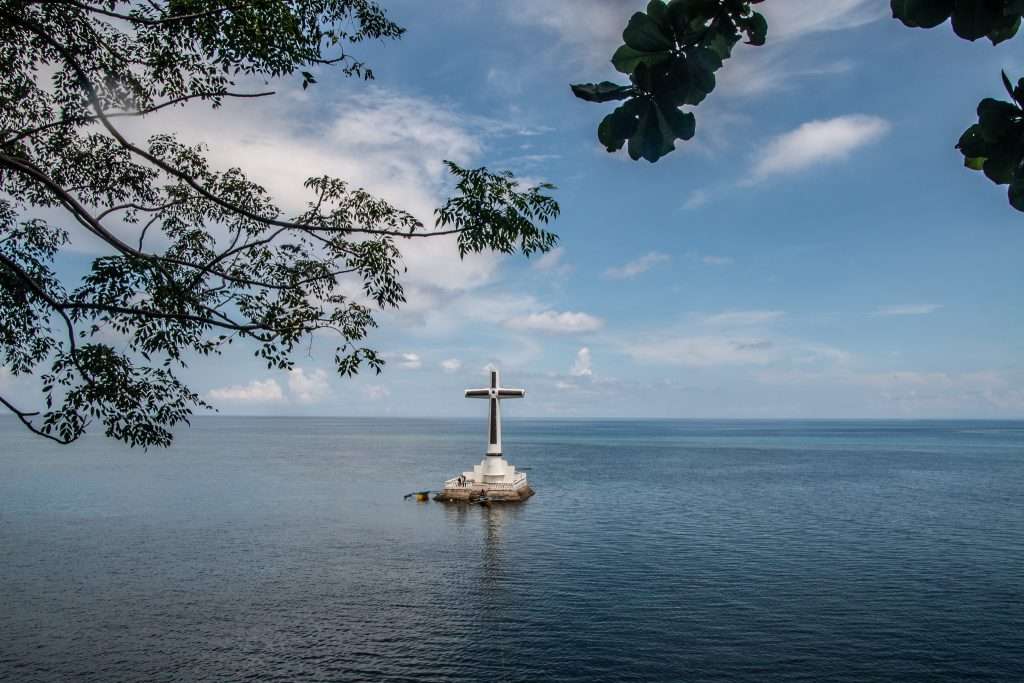 Camiguin Island is home to the unique and intriguing Sunken Cemetery. Located just off the coast, this underwater graveyard was created when a volcanic eruption caused part of the cemetery to sink into the sea. Today, visitors can take a boat to the site and see the eerie sight of crosses and tombstones submerged underwater, offering a hauntingly beautiful and poignant reminder of the island's volcanic history in Mindanao.
21. Cape of San Agustin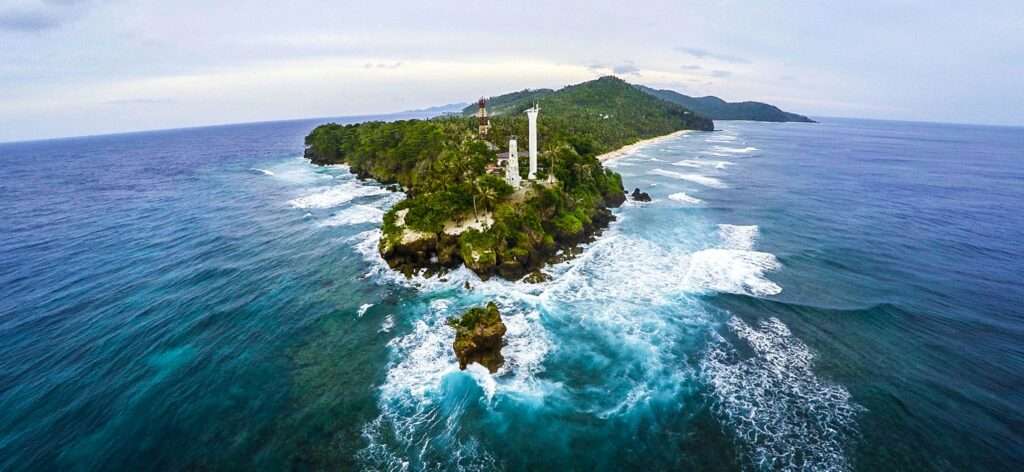 The Cape of San Agustin, situated in Surigao del Sur in Mindanao is a scenic coastal area that showcases the raw beauty of the Pacific Ocean. The cape features rugged cliffs, dramatic rock formations, and panoramic views of the vast sea. Visitors can take leisurely walks along the shoreline, marvel at the crashing waves, and witness stunning sunsets that paint the sky with vibrant colors. The Cape of San Agustin is a mesmerizing destination for nature lovers and photography enthusiasts.
22. Dahilayan Adventure Park – Bukidnon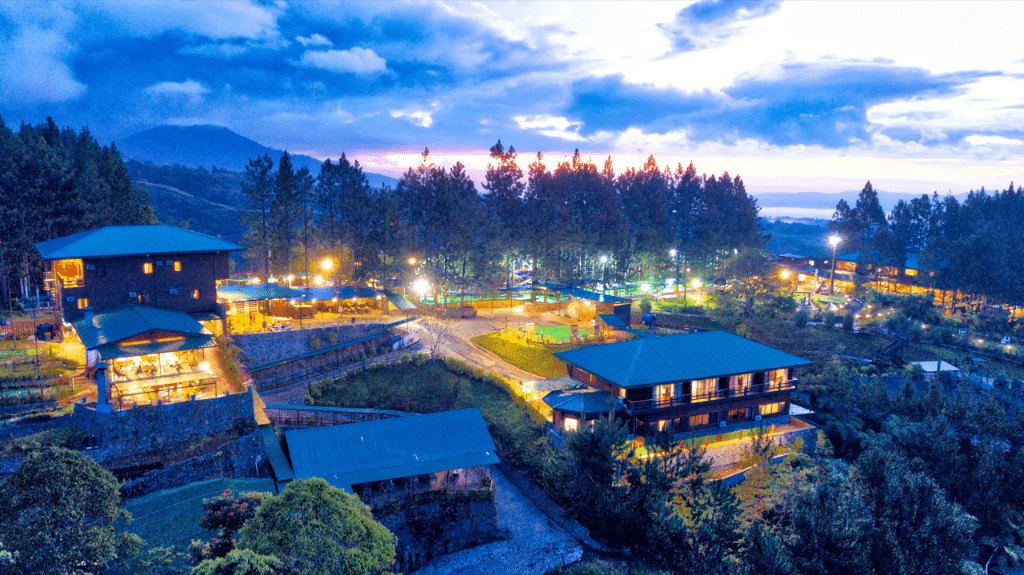 Dahilayan Adventure Park in Bukidnon offers an adrenaline-packed experience for adventure enthusiasts. Set amidst the cool mountainous region, it features exhilarating activities such as Asia's longest dual zipline, bungee jumping, and a thrilling dropzone free fall. The park also boasts scenic views of rolling hills and pine forests, making it an ideal destination for nature lovers seeking an adventure-filled getaway.
23. Panampangan Island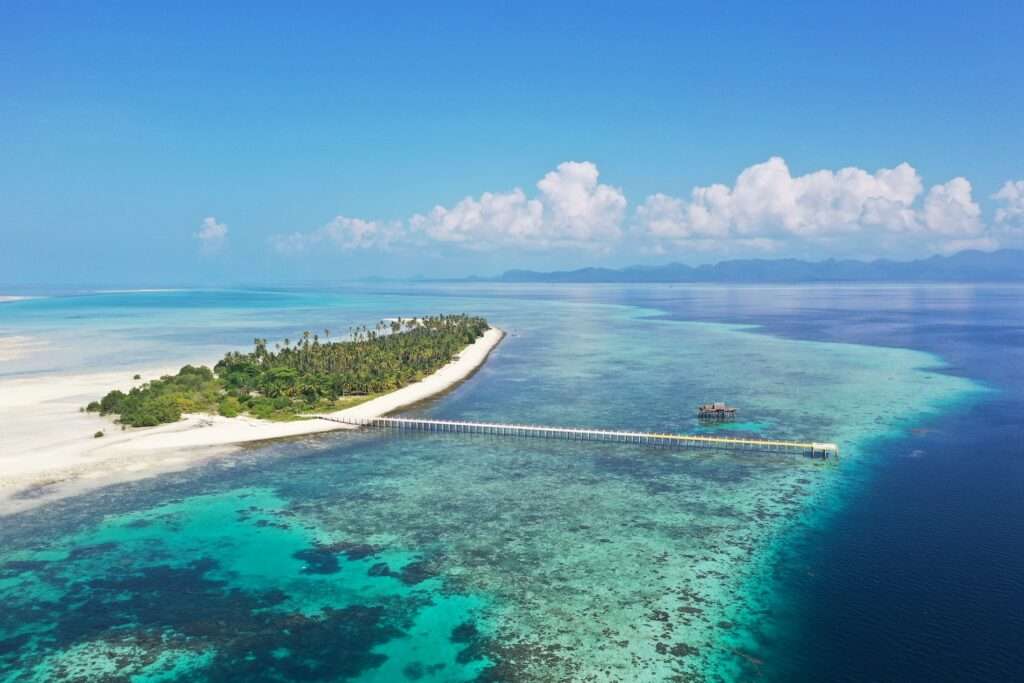 Panampangan Island is a small but captivating island located off the coast of Tawi-Tawi in Mindanao. It is known for its pristine white sand beaches and crystal-clear turquoise waters. The island is relatively untouched by mass tourism, allowing visitors to enjoy a tranquil and secluded beach experience. Panampangan Island is a perfect destination for beach lovers, offering serenity and breathtaking beauty that will leave visitors in awe.
24. Malamawi Island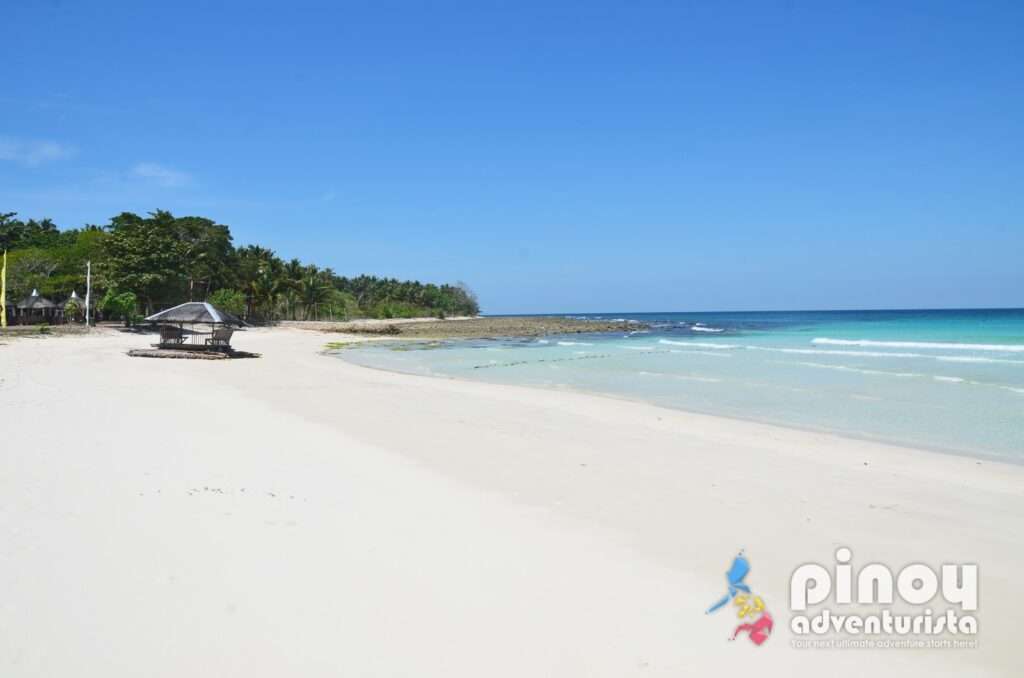 Malamawi Island, located in Basilan, is a hidden gem waiting to be explored. This pristine island offers unspoiled beaches with powdery white sand and crystal-clear waters. It is a paradise for snorkeling and diving enthusiasts, as the island's vibrant coral reefs teem with marine life. With its peaceful atmosphere and picturesque landscapes, Malamawi Island offers a tranquil and idyllic getaway for those seeking relaxation and natural beauty.
25. Lake Sebu – South Cotabato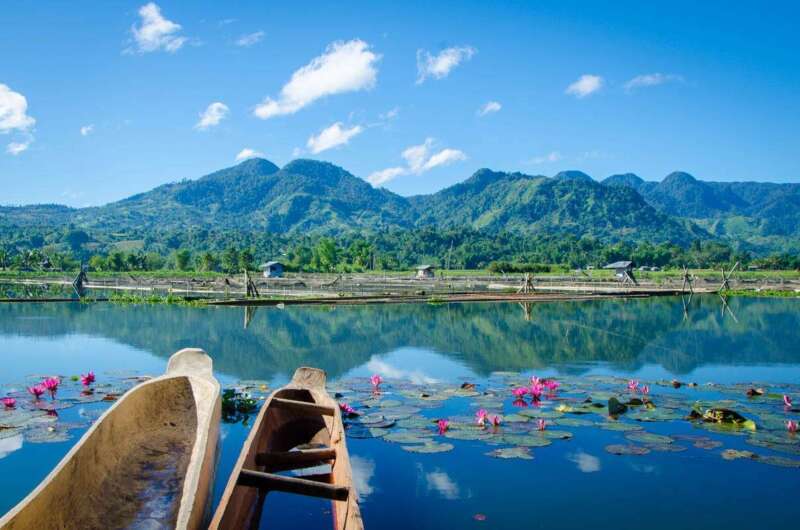 Lake Sebu in South Cotabato is a picturesque lake surrounded by misty mountains and lush forests. It is home to the T'boli indigenous community and offers a glimpse into their rich cultural heritage. Visitors can cruise on the lake's tranquil waters, visit traditional T'boli villages, and witness traditional dances and crafts. The scenic beauty and cultural immersion make Lake Sebu in Mindanao is a unique and unforgettable destination in the Philippines.
26. Cagayan de Oro River – Misamis Oriental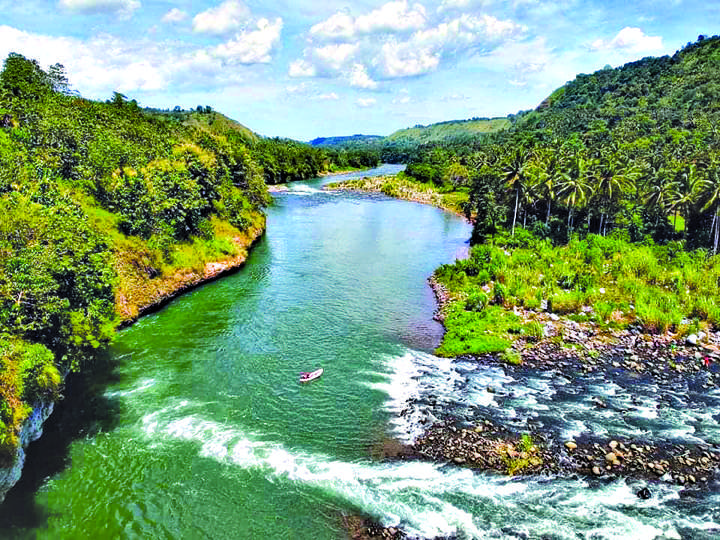 Cagayan de Oro River, located in Misamis Oriental, is a popular destination for thrilling whitewater rafting adventures. The river offers a thrilling and adrenaline-pumping experience as visitors navigate through rapids and cascades. Surrounded by lush greenery and towering cliffs, the river provides a stunning backdrop for an exhilarating outdoor adventure. Cagayan de Oro River in Mindanao is a haven for adventure seekers and nature enthusiasts alike.
27. Asik-Asik Falls – North Cotabato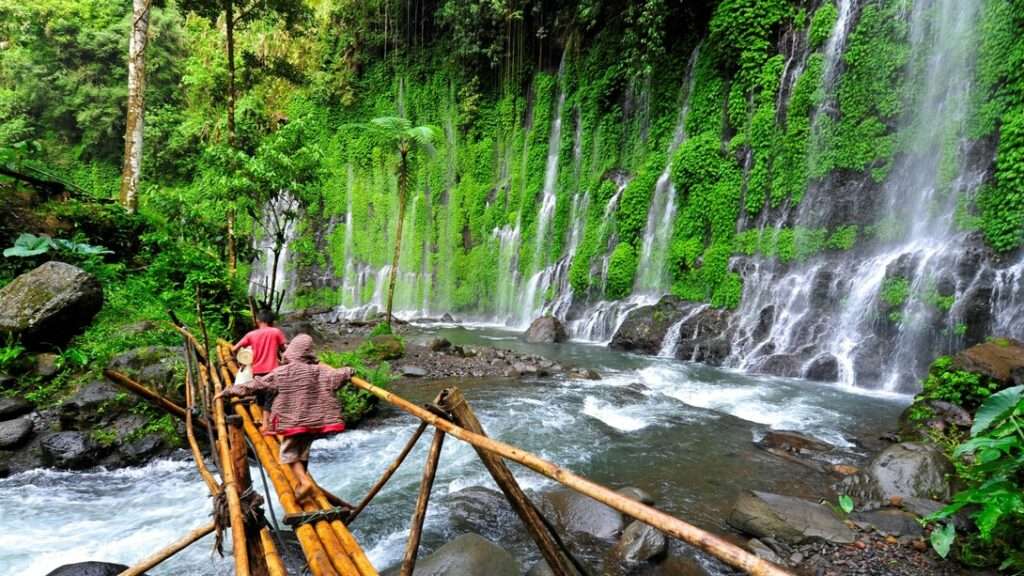 Asik-Asik Falls in North Cotabato is a hidden gem tucked away in the dense rainforest. This captivating waterfall features a curtain-like veil of water cascading down a towering cliff covered in lush vegetation. The sight is truly awe-inspiring, and the misty atmosphere creates a serene and magical ambiance. Asik-Asik Falls is a testament to the beauty and grandeur of nature in Mindanao and it provides a refreshing and rejuvenating experience for visitors.
28. Britania Islands – Surigao del Sur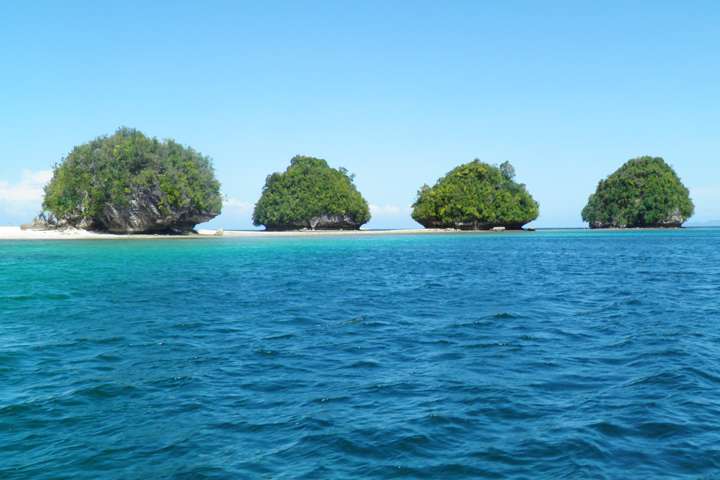 The Britania Islands, located in Surigao del Sur, is a group of pristine islands that offer a tropical paradise experience. These islands boast powdery white sand beaches, crystal-clear turquoise waters, and fascinating rock formations. Island-hopping adventures allow visitors to explore various islets, each with its unique charm and secluded beaches. The Britania Islands offer a tranquil escape and a chance to bask in the natural beauty of Mindanao.
29. Hinatuan Enchanted River – Surigao del Sur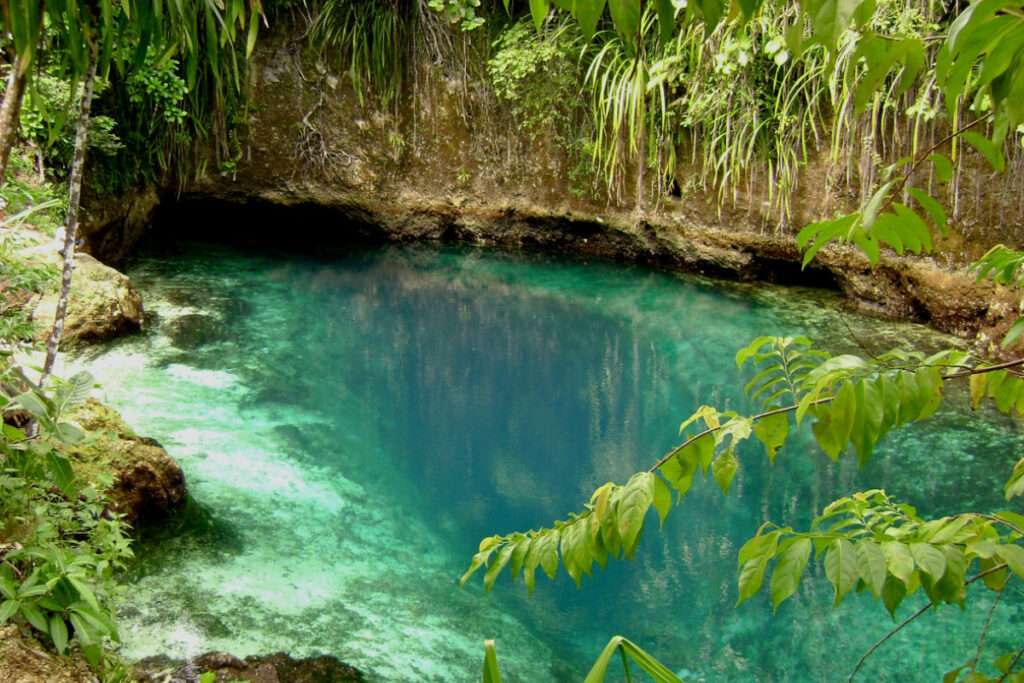 Hinatuan Enchanted River is a mystical river that captivates visitors with its enchanting beauty. Known for its crystal-clear blue waters, the river is surrounded by lush greenery, creating a magical atmosphere. Snorkeling and swimming in the river reveal a vibrant underwater ecosystem teeming with colorful fish. Legends and local tales add to the allure, making Hinatuan Enchanted River a truly captivating destination in Mindanao.
30. Great Sta. Cruz Island – Zamboanga City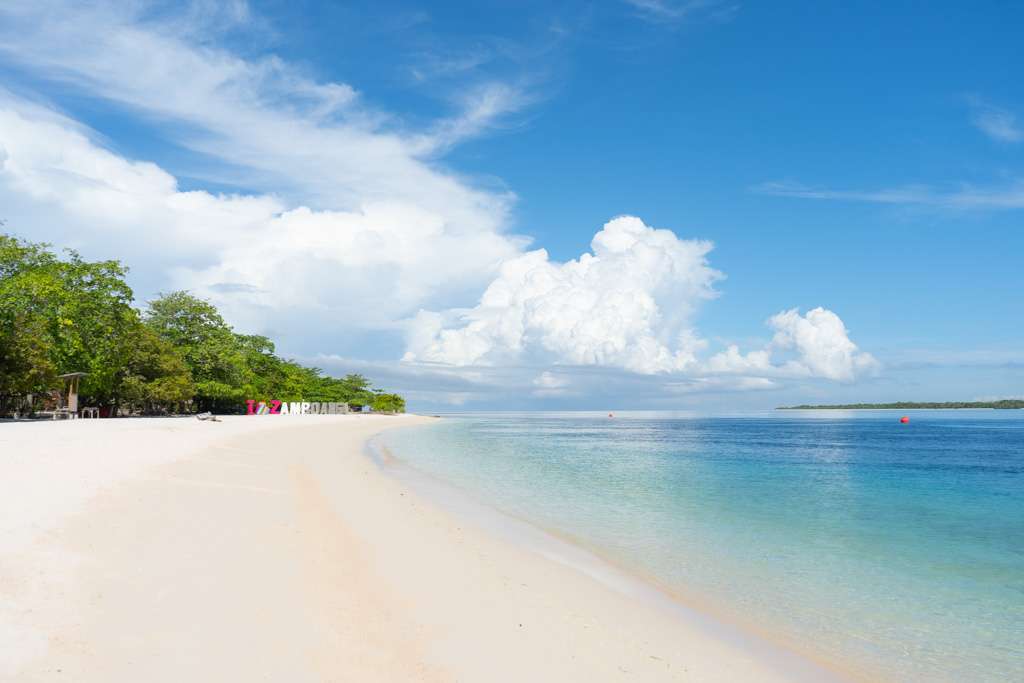 Great Sta. Cruz Island, also known as the "Pink Beach," is a unique and captivating destination in Zamboanga City. What sets this island apart is its blush pink sand, a result of crushed red organ pipe coral that blends with the white sand. The island's vibrant coral reefs and crystal-clear waters make it a paradise for snorkeling and diving. With its distinctive pink sand and natural beauty, Great Sta. Cruz Island offers an unforgettable and visually striking experience.
In conclusion, Mindanao in the Philippines offers a captivating blend of natural wonders, cultural heritage, and thrilling adventures. From its pristine beaches and majestic mountains to its vibrant cities and tranquil lagoons, Mindanao has something for every traveler. Whether you're seeking relaxation, adrenaline-pumping activities, cultural immersion, or simply a chance to connect with nature, Mindanao invites you to explore its diverse landscapes, discover its rich heritage, and create memories that will last a lifetime.